I discovered my Joyplace when I joined the company and team at 95%. I have never worked in the corporate field before; so 95% is my first experience in this sector. Before working here, I've never really connected with the teams I was a part of. I had heard from my peers – who were employed before me – that this was a normal situation in every company. The team I was a part of in my previous company was full of nice people, but I felt I had stagnated. We were able to work together but it was hard to communicate and we had different goals so it was difficult for us to connect on a deeper level. It was just a job and I couldn't find a sense of fulfilment or joy when working. It felt lonely.
When I went looking for another job I found Janet and 95%! I was nervous during my first interview with Janet but it felt natural to open up to her; so much so that I ended up teary eyed when I shared a personal story. I think I definitely made a first impression. We then set a date for me to meet the 95% team for the very first time on the 21st of February. It wasn't difficult to click with the 95% team and I was in awe when they first introduced to me their vision and values in person. I felt like they were walking the talk and not just having it on display. I got the email that I was hired a day before my graduation. It was a great graduation present.
I didn't officially start working at 95% until April 1st so in March before I started, I dropped by the 95% office on my day offs to familiarize myself with my new job and colleagues. March 29th is a special day for me as it's my birthday; and even though I've only met the team about 3 times, I received an unexpected birthday present from them. They had taken the time to record a video of them singing me a happy birthday. It was touching to see that they thought about me. It was heartwarming and I will always be grateful for their caring nature. This made the 29th even more special as it was also my last day at my previous job.
Fast forward to when I officially started at the company. After a rough start, the team helped me overcome the hurdles I faced. I felt them live and practice their values, especially Love and Winning.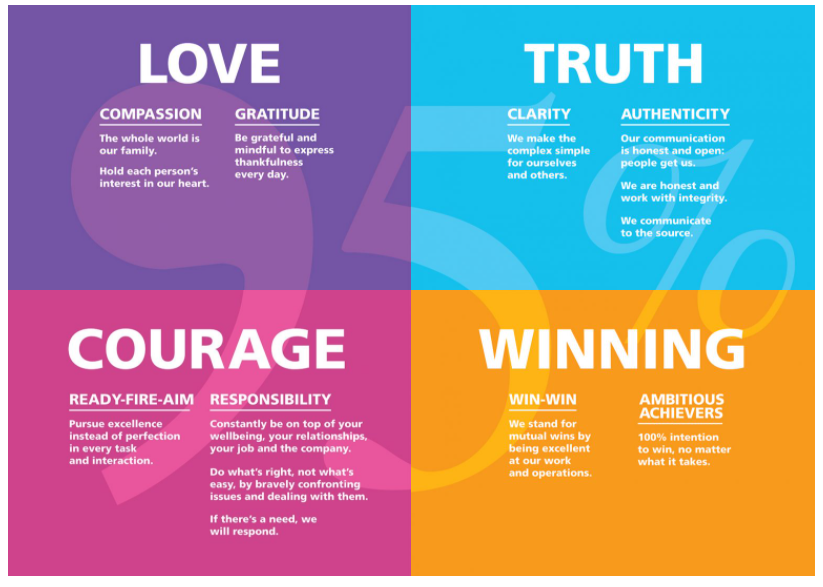 I was shown Love when they listened to my worries and insecurities. They also showed me compassion and patience when I made mistakes while I was learning; welcoming my questions and guiding me in the right direction. It was obvious they had my interests at heart and were rooting for me to grow into my role.
There were times when I was at my wit's end and wanted to call it quits. Them being there for me and showing me that I was not alone helped boost my confidence whether it was work related (where I organized projects and the team came together to see it through.) 
or if was my personal life (when they encouraged me to go all the way up to the waterfall at Sg. Lepoh, Hulu Langat when I was ready to give up halfway through as we were attacked by bees and leeches). This showed me that I could lean on them for guidance and help, they were there for me in another capacity as well; as friends.
It has been more than a year and I can confidently say that I have found my Joyplace with 95% and I realize the importance of discovering what you need early on. Getting started can be as easy as finding the right job with people that have your best interests at heart. It can also be done by looking for the right tools and people to build the Joyplace you envision. I can definitely say it is a worthwhile investment to create a joyplace for your people. I didn't realize how much of a difference it makes when the people come first.
Shared by Sueraya Azeeza, Project Coordinator at 95%